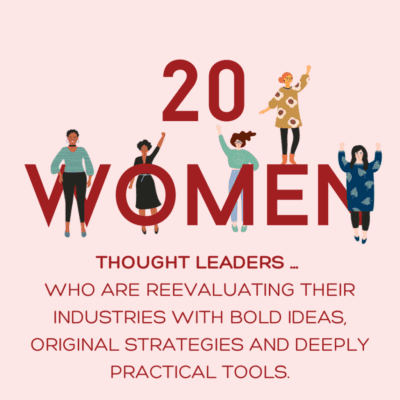 Carla Sorrell — October 18, 2022
Originally published on Safi Media™
I want every girl to know that her voice can change the world.
Malala Yousafzi
Everywhere we look, we are surrounded by bold, visionary women's voices, thought leaders who are articulating the moves we need to make, globally, to advance gender equity. Never before have there been more women speaking up and acting out, in whatever form is right for them – from joining protests to launching new businesses to crafting powerful messages through whatever channels are available to them.
But when we broaden the scope and look at the context for these voices, we see that STILL the most influential voices in media, business, politics, etc. etc. belong to men. Look at the majority of the interviewees on the world's top podcasts, look at the listings of top business books, and look at the world's leaders. And when it comes to citing "experts" women are rarely quoted — In one University of Pennsylvania Study of more than 5554 academic papers, the works authored by women were cited HALF as much as those authored by men. Another University of London study found that 77% of the experts cited by top media outlets were men.
Raising Women's Voices
It's time to highlight women whose powerful voices and expertly-articulated ideas are shaping culture, changing industries and transforming lives. For this compilation of thought leaders, the Safi Media team decided to pool their insights and share a selection of women who are on our radar right now. These individuals represent a range of women whose feeds we are following, whose voices we seek out and whose ideas help us frame the way we work and live right now.
You might also notice that a lot of the trailblazers we all know and love, ones you'd expect to see here — like the Melinda Gates' and the Malala Yousafzis of the world — are missing. Instead of listing solely the heavy hitters, we want to bring you a momentary snapshot of our world, and look towards women we haven't previously highlighted.
Big, bold voices are being built from every angle, and the more we share our lists, the more we will diversify the scope of women thought leaders changing the world. These 20 women are re-evaluating their industries with bold ideas, original strategies and deeply practical tools.
Ali Brown — Women's Voices
Building women's wealth and power has been a commitment for Ali Brown. The renowned coach to women entrepreneurs gives women the skills and confidence they need to grow their businesses to 7-8 figures through Glambition Radio and The Trust. She has ranked within the Inc. 500 list of fastest growing private companies in the nation; was named one of Forbes' Women to Watch; and is one of EY's Winning Women Entrepreneurs.
Amy Cuddy — Women's Voices
The American psychologist became famous in her field for a 2010 study about the effects of "power poses." Her 2012 TED talk advising people "Don't fake it till you make it — fake it till you become it" was the second most popular video on the platform, with over 46 Million views. The Social psychologist and bestselling author and award-winning Harvard lecturer writes & speaks about how we can be more present, influential, compassionate, courageous & satisfied. Cuddy's NYT-bestselling book, Presence: Bringing Your Boldest Self to Your Biggest Challenges, has been published in 35 languages and sold more than half a million copies worldwide.
Amy Gallo — Women's Voices
Author, speaker and coach, Amy Gallo's spectrum of reference is wide, enlightening and specific enough to be incredibly useful. Gallo is a workplace expert whose compelling takeaways reference the latest management research and evidence based ideas about improving relationships to excel at work. She is contributing editor at Harvard Business Review; co-host of HBR's Women at Work podcast the author of Getting Along: How to Work with Anyone (Even Difficult People) and the HBR Guide to Dealing with Conflict. We salute Amy for her commitment to "untangling some of the knottiest issues around being a woman at work."
Bianca King — Women's Voices
The founder of Pretty Damn Ambitious, Bianca King embodies the title for herself, and as an advocate for empowerment and equality for women entrepreneurs. Through her writing, podcast interviews and LinkedIn posts, she consistently addresses some of the biggest roadblocks holding women back. By addressing success through a gender lens, King is challenging women to unleash their ambition by thinking big and going bold.
Bibigi Haile — Women's Voices
A "secret weapon" for women in corporate leadership roles, Bibigi Haile is founder of the Beauvoir Group. Her self-proclaimed obsession is visibility in a world where many women still struggle with taking the stage in their own careers. The real "secret" to making women more visible, says Bigigi, is bringing to the forefront their unique voices. She is clearing space for leaders to unapologetically own the space they occupy, and then some. Her podcast, Speaking with Women, brings to light the nuanced considerations that women face when making themselves visible.
Bozoma St John — Women's Voices
"You can't play it safe to build a feminist future," said Bozoma St John, speaking at the Ms. Foundation for Women. Hailed as the coolest person to take stage at an Apple keynote, St John's star is on the rise after leaving her post as Chief Marketing Executive for Netflix to go solo, now on the cusp of publishing her hotly anticipated first book, The Urgent Life. As a marketing executive for companies including Endeavor and Apple, she has fought from the inside for women and people of colour. We are in awe of how she puts the badass in business. Not only is she the #1 Most Influential CMO in the world (Forbes 2021) but she teaches what she preaches through "The Anatomy of a Badass" course at Harvard Business School and her public online class "The Badass Workshop."
Elizabeth Leiba — Women's Voices
The social justice warrior says that "learning black history changed her life. Elizabeth Leiba has founded or launched high impact initiatives that contribute to black empowerment and cultural awareness: The Black History Culture Academy, offering e-based learning in African and African American history and culture; Black Women Handle Business, a centralized place to support Black women-owned businesses and provide services to amplify their missions; and the Black Power Moves podcast, which she hosts, informing about Black culture, empowerment, entrepreneurship, and history. Leiba is a LinkedIn Top Voice in Education (2020) and is a published writer whose engaging content and conversations focus on education, equity and social responsibility.
Eloise Gagnon — Women's Voices
If you need a micro boost of professional confidence, Eloise Gagnon is your woman. Her 1-minute "how-to" LinkedIn videos cover everything we want to cultivate in our leadership: from confidence to charisma and command. After spending almost 20 years working around the world as an international lawyer, Eloise launched her mentoring and coaching practice to help aspiring leaders build their presence and influence so they can get the recognition they deserve (think big promotions and big clients).
Farnoosh Torabi — Women's Voices
The Editor At Large of CNET Personal Finance and Host of the award-winning podcast So Money, Farnoosh Torabi is one of America's leading personal finance authorities. Her advice has been called "perfectly practical" by the New York Times. She's written multiple books, the latest bestseller is entitled When She Makes More: The Truth About Love and Life for a New Generation of Women. Farnoosh's insights on making more money and avoiding burnout uphold a mantra we should all worship: "work smarter, not harder."
Jenny Jay — Women's Voices
The Canadian educator, creator and storyteller's colourful instagram feed has us hooked. As the founder of The Double Jay Collective inclusive ethos around storytelling reiterates how important it is for individuals who are part of marginalized groups to belong and feel valued, beyond visibility. Her mission is to make sure this is part of the process. Her own identity as a South Asian woman with experiences with in/visible disability, living unhoused and without financial security informs the framework she has created for storytelling that recognizes and validates individual experience.
Register For The Summit: How To Sell Group Programs to Corporate Buyers on Dec 1-2nd, 2022
Julie Ellis — Women's Voices
The co-founder of Mabel's Labels, one of Canada's greatest small business success stories, used her success in business to help propel the success of others. After founding her coaching company, Julie Ellis and Co, she has worked with bold leaders propelling them to unlock their capacity, leading to accelerated success. Her mission aligned work, towards advancing gender equity, has included a significant role as Growth Mentor for female-founded companies in Beyond Boundaries, a program run by Haltech and funded by the Canadian government in their efforts to double the number of women-owned businesses in Canada by 2025, and as Chair of the Board at Angel One Investment Network, one of the most active angel investor groups in Canada.
Precious Williams — Women's Voices
Precious L. Williams is a 13-time national elevator pitch champion who has also successfully appeared on ABC's "Shark Tank," CNN, Wall Street Journal, Forbes and Black Enterprise Magazine. She made her mark in business by convincing investors to fund Curly Girlz Lingerie before it existed. With two TED talks under her belt, Precious, through her pitching skills and talents, supports her clients to win millions of dollars in pitch competition money, secure lucrative speaking and corporate training contracts, and launch their companies. She will be telling it all in her newly published book, The Pitch Queen.
Marie Forleo — Women's Voices
Marie Forleo is an American entrepreneur who has paved the way for women in leadership. She built her multi-million dollar empire, Marie Forleo International, from a solo coaching company she founded in 2001, specializing in small business and personal development for women entrepreneurs. She is a New York Times bestselling author for Everything is Figureoutable and Make Every Man Want You. She also started the online business program called B-School and built a media platform that included Marie Forleo TV and the Marie Forleo Podcast.
Michele Bailey — Women's Voices
Michele Bailey is blazing the way for a holistic and happy approach to business. Last year ForbesBooks published her book, the Currency of Gratitude. The guide extrapolates gratitude as a currency, an approach used by her brand and culture agency, The Blazing Group, to help clients "brand from within" thus driving successful marketing programs from the ground up. Bailey's thoughtful innovations offer new metrics for success. Bailey was a driving force in bringing the first Women Presidents' Organization (WPO) chapter to Canada.
Sallie Krawcheck — Women's Voices
Sallie Krawchek CEO and Co-Founder of Ellevest, a women's-focused investment platform she launched in 2016. Krawcheck has guided Ellevest to $1 billion in assets under management. "Nothing bad happens when women have more money," says Krawchek. The platform has made a global impact through its commitment to helping women achieve their financial goals through financial education and coaching. Ellevest collects impactful data around financial trends for women, progressing our understanding of the relationship between women and money.
Reshma Saujani — Women's Voices
Reshma Saujani began her career as an attorney, but in 2010, she became the first Indian American woman to run for U.S. Congress. As part of her congressional race, she visited local schools and realized there was a marked gender gap in technology classes, which led her to start Girls Who Code, an international nonprofit organization working to close that gap. Reshma is also the author of Brave, Not Perfect, an international bestselling book that shares a collection of personal stories and powerful insights and strategies to end perfectionism and embrace bravery. You can hear Reshma talk about her journey as a guest on Safi Media's Power + Presence + Position podcast.
Pam Slim — Women's Voices
Pamela Slim is an author, business coach, and co-founder of Main Street Learning Lab. Her newest book, The Widest Net is based on a fascinating approach to what she calls ecosystem marketing. Pamela was a guest on Safi Media's Power + Presence + Position podcast where she shares progressive tools for resilient, future-facing businesses. Those include the future of ecosystem marketing and the power of looking at the totality of your network to make intentional decisions about community engagement.
Real Estate Gabz — Women's Voices
We're suckers here at Safi Media for a good niche, and Real Estate Gabz has us hooked. She is focused on empowering her clients through property acquisition in Saint Louis. Whether a first time buyer or someone looking for an investment opportunity, Real Estate Gabz is helping her clients to do so much more than just find a lender, she is changing their mindset to uncover their "why", understand the real estate math and overcome intimidation. She is totally dialed into the market, as reflected in her advice and videos, offering engaging and future-focused explanations about the market and not-to-miss opportunities.
Tara McMullin — Women's Voices
Tara McMullin is a writer, podcaster, and producer who's been making business make sense for small business owners for over 12 years. Tara brings a unique perspective to business thinking informed by her background in theology, interest in endurance training and critical theory, and strengths as an autistic creator. She's the host of What Works, a podcast about entrepreneurship; She's a bestselling business instructor on CreativeLive and a TEDx speaker; Her writing has been seen on Fast Company and The Startup. Her first book, What Works: A Comprehensive Framework To Change The Way We Approach Goal Setting, will be released in November.
Victoria Lennox — Women's Voices
An entrepreneurial executive and policy leader, Victoria Lennox has propelled Canada onto the global stage as an 'Innovation Nation', as the founder of Startup Canada, the Innovators and Entrepreneurs Foundation and the National Association of College and University Entrepreneurs (NACUE). Victoria designed, built and operationalized values-based ecosystems, clusters, networks and organizations that persist as institutions within the fabric of Canada's and the UK's innovation and entrepreneurship ecosystems. She is a voice for change, her well-networked life is reflected in her output, sharing opportunities and ecosystems that are a welcome addition to anyone's radar.
Do you want to tap into the full potential of your voice and command your own thought leadership through compelling storytelling? Check out our Selling With Story framework to give you all the tools you need.
We'd love to know who you would add to this list? Please share it by clicking one of the buttons below – add your suggestions and tag @safimedia in your reply!
EP522: Learning as a Growth Metric with Anu Bidani
EP523: Why 7 Figures is a Worthy Goal
"I ENCOURAGE WOMEN TO STEP UP. DON'T WAIT FOR SOMEBODY TO ASK YOU." REESE WITHERSPOON